Stanbic Uganda Launches Wealth Proposition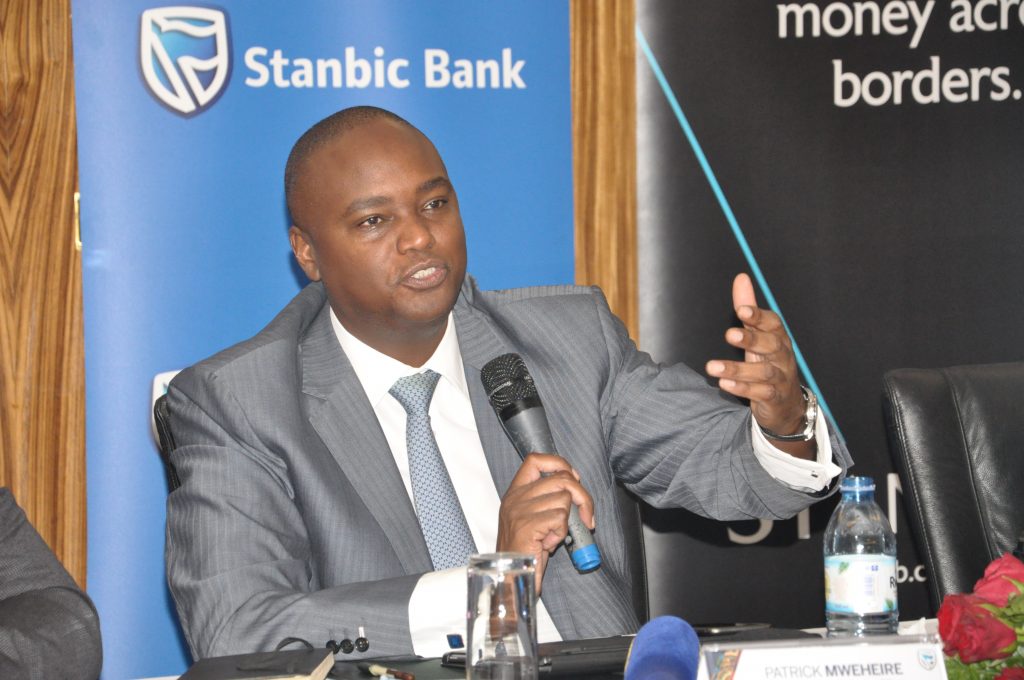 Stanbic Bank Uganda has launched a new Wealth Value Proposition dedicated to offering a complete range of Financial Services including Life and General Insurance, Investments, Health Solutions and International Products / Services for Individual and Business Clients. This proposition is dedicated to serving the Bank's growing Personal and Business Banking, as well as Corporate and Investment Banking client base.
Speaking during the launch, Stanbic Bank's Chief Executive, Patrick Mweheire said, "Wealth is not only for the Wealthy – it is for everyone. This is the reason we are integrating Wealth across our range of financial services so that we can offer Universal Banking and Financial Services solutions more holistically and seamlessly from a single point of contact. We have the expertise, people, network of partners and capability to offer our clients an unmatched experience and one solution for all their on and offshore financial planning needs."
In delivering the Wealth proposition, the new division will leverage on the capabilities of Stanbic Bank Uganda as well as the strategic partnership with Liberty Group.
The Managing Director of Liberty Life, Joseph Almeida, said, "This partnership enables us to deliver a superior, enhanced and innovative value proposition to our customers that take care of all their financial services needs. The one-stop shop facilitates us to analyse, assess and advise clients efficiently based on their individual needs."
As part of the Wealth offering, Stanbic Bank Uganda has also launched a High Net Worth proposition called Wealth and Investment. This provides the full spectrum of Investment Solutions, Trust and Fiduciary services, Specialised Lending, Risk Solutions and Transactional Banking products, along with the astute understanding of an experienced and dedicated Relationship Manager.
Wealth and Investment Manager Bernice Mvano said, "Exceptional service, individual attention and absolute discretion are at the core of our value proposition. We aim to provide tailor made solutions that reflect our clients' appetite for risk and factor in their life stage, family, professional position, business needs, and the legacy they wish to leave for the next generation. To this end, Wealth and Investment have created Leadership Academies for the children of our clients – these aim to engage, educate and empower the children with the financial awareness and skills necessary to help them develop and manage wealth, ensuring the successful transfer of wealth for generations to come.'
-ENDS-
About Stanbic Bank Uganda
Stanbic Bank Uganda is a member of the Standard Bank Group, Africa's largest bank by assets. Standard Bank Group reported total assets of R2 trillion (about USD165 billion) at 31 December 2017, while its market capitalization was R317 billion (about USD28 billion).
The group has direct, on-the-ground representation in 20 African countries. Standard Bank Group has 1 221 branches and 8 815 ATMs in Africa, making it one of the largest banking networks on the continent. It provides global connections backed by deep insights into the countries where it operates.
Stanbic Bank Uganda provides the full spectrum of financial services. Its Corporate & Investment Banking division serves a wide range of requirements for banking, finance, trading, investment, risk management and advisory services. Corporate & Investment Banking delivers this comprehensive range of products and services relating to: investment banking; global markets; and global transactional products and services.
Stanbic Bank Uganda personal & business banking unit offers banking and other financial services to individuals and small-to-medium enterprises. This unit serves the increasing need among Africa's small business and individual customers for banking products that can meet their shifting expectations and growing wealth.
For further information go to www.stanbicbank.co.ug. Issued by WMC Africa on behalf of Stanbic Bank Uganda. For more information contact:
Primrose Kiberu, WMC Africa, E Mail: prim@wmcafrica.com Mobile: +256 (0) 77 2430 304
Share
X CLOSE