BEWARE!! YOU ARE ALWAYS COMMUNICATING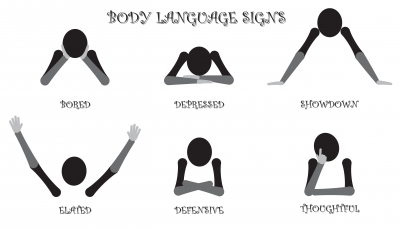 People around us can pick up a lot just from your body language.

Slouching is considered a sign of laziness while those who lean forward in their seats are thought to be aggressive and attentive. A smile tends to welcome, but a frown or grimace implies 'keep away!'

Albert Mehrabian, professor emeritus at the University of California, Los Angeles, says communication is only 7% verbal and 93% non-verbal.

Of that non-verbal part, 55% is body language while your tone of voice makes up 38%.

Although communication relays our thoughts, messages, perceptions, ideas and so on, it begins long before you open your mouth.

For most corporate folks, much of their time is spent behind computers, conference rooms and boardrooms.

The million dollar question then becomes: are we always consciously communicating? I believe the right answer to this is – 'No!'

That is why non-verbal communication matters and the need to take care of yourself.

Good mental and physical health (mind, body and soul) is KEY to staying alert and a strong base from which you can carry out your daily professional obligations and responsibilities.

Your lifestyle in general plays a critical role in how your body communicates. For instance, a hangover on the morning of a crucial meeting spells disaster.

A healthy lifestyle also involves taking care of your physical appearance. Factors like what you eat and drink, how often you exercise, how often you groom yourself contribute to your physical appearance. You should also try and go for regular medical check-ups to prevent health complications that may arise later.

Plan ahead and set aside some 'me-time' to re-charge your batteries. Hitting the gym can be an enjoyable way to tackle excess weight and stay fit.

Taking time off work to spend it with your family or friends from time to time is also important. You can use this time to get away from all the pressures at work and the other stresses associated with it.

Some retail therapy to reward yourself every once in awhile could also contribute to improving your wellbeing i.e. attitude, perceptions, decisions and facial expressions with life in general on all fronts.

When you are comfortable with your body, it shows because you tend to communicate better and with more confidence. So let's pay attention to it!

Share
X CLOSE