Nonverbal Communication Is Key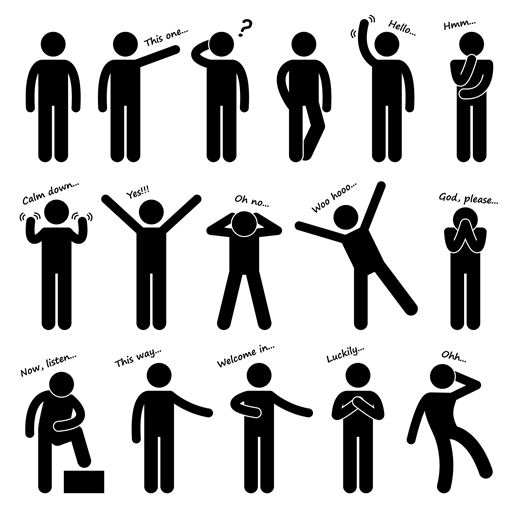 We tend to spend most of our time planning WHAT we are going to say, but completely neglect HOW we are going to say it.

The way you stand, your facial expression, your ability to make eye contact and what you do with your hands can each amplify or distract from the potential impact of your presentation. This in brief is called non-verbal communication and is a key factor in public speaking.

The way you stand.

In order to sound convincing you ought to position yourself in a way that is comfortable and allows you to keep the flow of idea from your mind. The way ones stands while addressing an audience will determine how and what he or she is saying is believable or not.

Comfort is also important while speaking. If your posture is bad then this in turn will dampen confidence hence affecting the message.

Do you feel uncomfortable? If you do, it is because you are defenseless — literally and figuratively. If something was coming at you, there is little you could do about it. But that is what makes it such a powerful stance, you HAVE to be confident, comfortable and in command to stand that way in front of an audience. If you catch yourself shifting your weight to one leg or the other or `fidgeting side to side', recognize that this is something you can work on.

If you feel compelled to move around, try to make those movements purposeful and not just random. You don't want to distract the audience, but walking slowly from one spot to another and then staying there for 30 seconds or so can make you look thoughtful and can help to calm your nerves.

Your facial expression.

Have you ever walked in for an interview of or a public speaking and the expressions of the people in the audience or panel distort your whole plan? Facial expression's reveal so much more than what your mouth says.

For the most part, speakers are presenting POSITIVE information. It is rare that a speaker gets in front of an audience and describes how lousy things are. Yet, you would never be able to tell that from the expressions on the faces of most presenters. If they don't look downright miserable, they have neutral expressions that don't contribute positively to the presentation. If you expect the information you are presenting to be interpreted as being positive, you need to deliver it with a positive, open facial expression. The last thing you want to have happen, is finish your presentation and have the audience be confused about whether what you said was positive or negative

Ability to make eye contact.

It is essential that a speaker make and hold eye contact with members of the audience. If you are speaking to a group of ten (10) or fewer, make a point of making and holding eye contact with each person.

Don't allow your eyes to dart around quickly from one person to the other,that could make you look untrustworthy. Make eye contact and hold it for five to 10 seconds, then do the same with the next person.

If you are presenting to a larger group, pick a half dozen to a dozen people in various spots throughout the audience to be your points of connection and make and hold eye contact with them. This projects confidence and makes a connection with the people in the audience. It also feeds and energizes you, which can catapult your performance to the next level.

What you do with your hands

We all have different ways of dealing with nerves but sometimes the actions our hands carry may help undo our message, have you ever for found yourself speaking with your hand and your audio steering in confusion?

Well…

Most people who have not been trained tend to keep their hands in front of them as a default position. This is only natural because it is a defensive posture — we subconsciously want to have our hands out front ready to protect us from whatever is coming. But that can literally get in the way of our connection with our audience. It also makes it likely that you will begin to wring your hands and do other distracting things.

Hand movements help with demonstration i.e. compliment the communication message by illustrating things that you can't explain by word of mouth.

People will pay little attention to what you say than what you do, non-verbal communication will help deal with this loop- hole in communication rendering it key for public speaking.

Share
X CLOSE